What is the new government regulation in Canada for window coverings?
The Corded Window Coverings Regulations:
 SOR/2019-97 was released in April 2019 and is planned to substantially change the rules regarding chains, cords, and small parts on corded window coverings. New requirements under the REGULATIONS serve an essential purpose to help eliminate the strangulation hazard associated with corded window coverings and help protect the health and safety of children. More specifically, the Limitations seek to address the root cause of the pathway to injury or death by strangulation by restricting the length of reachable cords and the size of loops that a rope can create.
When does this take effect?
May 1, 2022.
What changes were made?
 The new REGULATIONS severely limit any cord's length and pull force on a product. Any free-hanging chain or tethered cord cannot be longer than 22 cm. Any longer line, cable, or rope, such as inner cords, cannot produce a loop more significant than 44 cm when a specific pull force is applied. In the past, these rules lived only intended for operating cords. The Rules accordingly recognize any chain or rope on a product as a corded window covering. This includes inner, rear, looped products, and even power cords.
We only use premium-quality fabric from our vast, unique collection for blinds or shades manufacturing.
Consult. Design. Execute. Enjoy.
Contact us to get your window covering ready for Summer!
We are taking on a limited number of design projects, so book yours in advance and give us a call today. 647-381-4477? 
ZebraBlinds4You is a local Canadian Blinds Manufacturer (CME) approved by Ontario Made Program.
Just send us a message for a free quote. We will answer any questions you may have. We are offering an upgrade old cords solution to a new stick solution approved by Ontario Safety Authority.
Don't hesitate to contact us for a free consultation.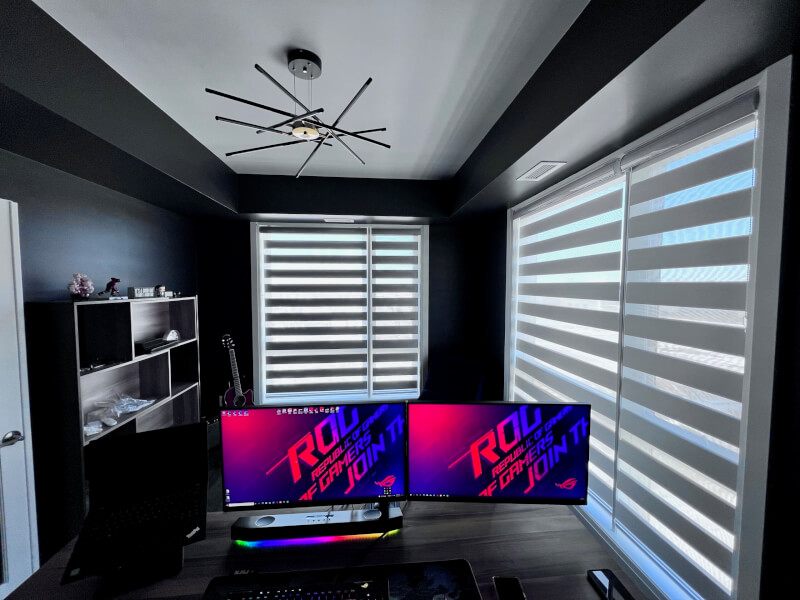 #zebrablinds4you #ZebraBlinds #DualShades #CombiBlinds #LayeredShades #SheerElegance #ZebraShades #windowcoverings #interiordesign #homedecor #design #customblinds #homedesign #BradfordBlinds #shades #madeincanada #homestyle #_home_design #windowtreatments #automatedblinds #modernhome#customwindowcovering #OrilliaBlinds #colinwoodShades #colinwoodblinds #supportlocalbusiness #ShopLocal #BarrieBlinds #officeblinds #officeinterior